Invitation to the press conference: Presentation of the SMART project - Small Museums Alliance Representing Territories | ITAT2049
18 March 2022
31 March 2022 - 14.00 - Typewriter Museum - Parcines
Peter Mitterhofer Typewriter Museum in Parcines accessible to all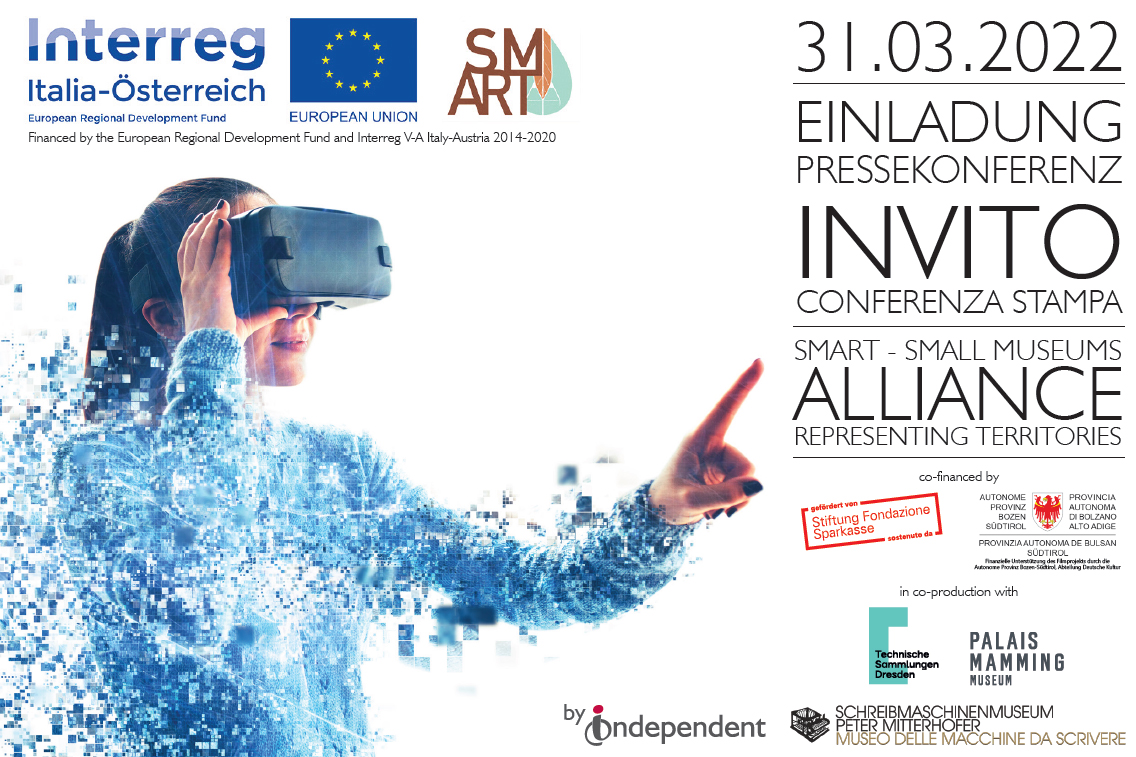 The Interreg SMART project promotes innovation, inclusivity and accessibility for all in the cultural sector. As the South Tyrolean competence centre in this field, we at independent L. found an adequate pilot museum for the cross-border project in South Tyrol in the Peter Mitterhofer Typewriter Museum in Parcines, where we implemented various measures (virtual reality, augmented reality, virtual tour, web accessibility) for a truly barrier-free cultural experience through the use of innovative technologies.
Media presentation of the project on 31 March 2022, at 2 p.m., at the Peter Mitterhofer Typewriter Museum in Parcines, in the presence of our guests of honour:
Provincial Governor - Arno Kompatscher
Department 39. Coordinator Joint Secretariat Interreg ITAT - Sabine Lamprecht
Director of the Sparkasse Algund - Martina Götsch
Director Department 34. Innovation, research, university and museums - Vito Zingerle
President independent L. - Enzo Dellantonio
Mayor of Parcines - Alois Forcher
Elmar Gobbi - Director des Palais Mamming Museums
Tiziano Rosani - Curator of the Palais Mamming Museum
We very much look forward to your participation and ask for barrier-free reporting, for which a sign language interpreter will also be available!
The cross-border SMART Interreg project is financed by the European Regional Development Fund and Interreg Italy-Austria V-A 2014-2020, Call 2018. The pilot measures in the Peter Mitterhofer Typewriter Museum are co-financed by the Fondazione Sparkasse. The film project about the typewriter prototypes developed by Peter Mitterhofer as an immersive visitor experience in virtual reality is co-financed by the Autonomous Province of Bolzano - South Tyrol, Department of German Culture - Office for Film and Media.