Celebrating and sharing the SMART journey with the local community
15 June 2022
Celebrating and sharing the SMART journey with the local community: kicking off inauguration events
During June 2022, results presentation and inauguration events were held in the SMART project pilot municipalities such as Valdagno, Saalfelden, and Resia.
The purpose of these events was to share with the local community the important digital and cultural interventions implemented in the area thanks to the SMART project, such as virtual tours, augmented reality models, and Silent Play walks, which were elaborated through the participatory journey that saw the direct involvement of representative members of the local community in building the narrative of these conversations.
The trailblazer was the municipality of Resia, whose opening event took place on June 8-9 and consisted of study visits, discussions, and training sessions.
On the first inaugural day on Thursday, June 8, study visits were held: the first round was dedicated to students, teachers and educators from local elementary and middle schools, and the second round to museum, tourism and cultural workers.


The activity alternated between guided tours of the new Silent Play "Towards the Barman Fountain" created as part of the project (led by Carlo Presotto and Paola Rossi of La Piccionaia and supported by Gloria Marini), and guided tours of the Nature Center "La Tana" (led by local nature guides), with a special focus on insects through the new 3D tactile models created thanks to SMART.

Following, a training was held for local operators to conduct Silent Play, curated by Carlo Presotto and Paola Rossi (La Piccionaia). The training included: how to use the Silent Play equipment (headphones, transmitters and microphone) and the transmission of the necessary relational-performance skills for leading the group and the active involvement of the participants, with particular attention to the relational dimension of the experience. Among the operators present, the presence of two people with disabilities should be noted with satisfaction. The training of local operators included a practical part with the Silent Play experience and the observation of conduction by Carlo Presotto.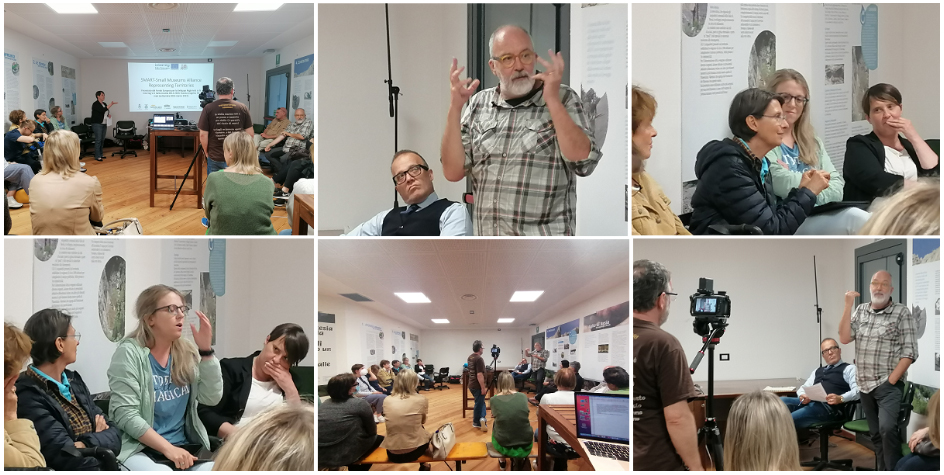 At the conclusion of the day, a public round table, open to all citizens and cultural, tourism, museum operators, public administrators and professionals in the field of accessibility, was held to present the results of SMART project and future perspectives in the field of territorial enhancement and accessibility. During the panel discussion, which was moderated by a journalist from the region, speakers included the mayor of Resia Anna Micelli, Carlo Presotto and Paola Rossi for La Piccionaia, as well as nature guides managing La Tana Nature Center, and a communication science student as well as a representative of the deaf community.